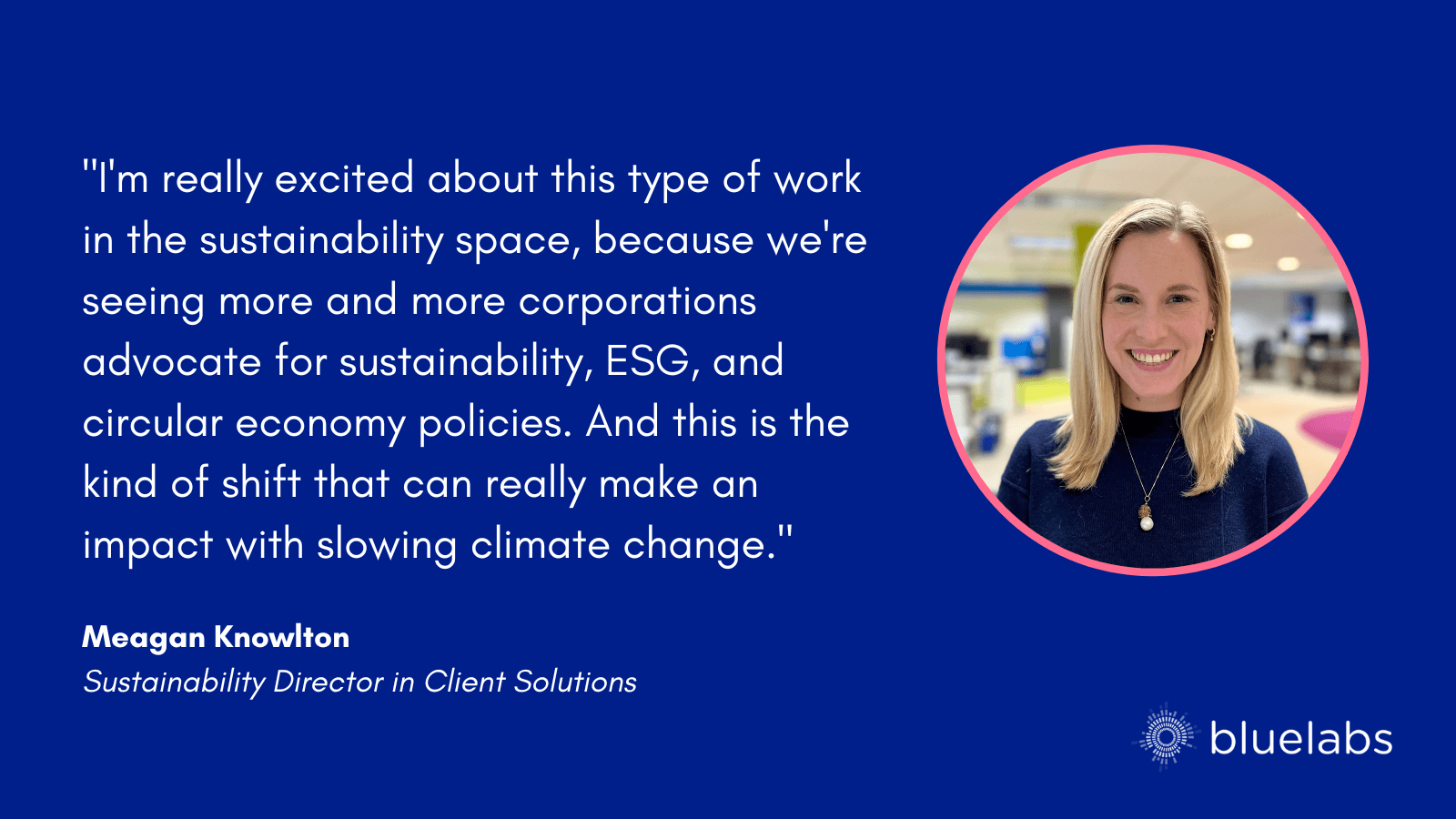 Who is the sustainability consumer? (and other questions)
When I first started working as a corporate sustainability practitioner, all of the focus was on cost savings. More efficient cooling, heating, water consumption, waste reduction – all of these meant cutting costs and reducing impact on the planet.
Cut to today. Many companies are incorporating sustainability into their business strategies. They're looking to sustainability as a vehicle for growth. They're creating products and services that deliver environmental or social impacts – from fashion to cars and everything in between. I became more interested in connecting companies to their consumers, and increasing the adoption of sustainable behaviors across the value chain.
This led to my recent decision to join BlueLabs, a data analytics firm with a sustainability practice dedicated to helping corporations unlock the full potential of the sustainability market.
BlueLabs regularly collects data on consumers' attitudes toward sustainability from a variety of sources, including how they rank sustainability as a value when making purchasing decisions, and how willing they are to pay more for more sustainable products. We use these data to build predictive models that allow us to assess every American consumer (age 18 and up) on these attitudes.
Using these models, we identify consumers whose purchasing behaviors are most – and least – motivated by sustainability. We also determine where they live and how to reach them with compelling messages that speak to their sustainability-related values. I'm thrilled to be in a position where my colleagues and I can support clients to find the right audiences – at the individual level – for products with sustainability attributes, and where we can run experiments on what kind of messaging works best to close the intention-action gap.
More than just the consumer, however, we'll be able to help companies target campaigns to thought leaders, policymakers, and their networks of influencers. I'm really excited about this type of work in the sustainability space, because we're seeing more and more corporations advocate for sustainability, ESG, and circular economy policies. And this is the kind of shift that can really make an impact with slowing climate change.
Interested in working with us, or have any ideas or tips to share? I'd love to hear from you! Please reach out on LinkedIn.
Meagan Knowlton, Director, Sustainability Practice at BlueLabs